The industrial style office aesthetic is making a comeback. Originally popular from the brutalist architectural movement in the mid-20th century, warehouse and industrial style office spaces are gaining traction. Visually attractive and more open than traditional conceptions, industrial office design elevates basic, unfinished environments such as warehouses and factories into showpieces, combining decorative and utilitarian elements to achieve bold and daring workplaces.
Wood juxtaposed with concrete, high ceilings with exposed wiring, pipes and air ducts, are just a few elements of an industrial style office adopted and popularized by organizations such as Google, Twitter, Redbull, and Capital One. Are you ready to adopt the industrial office aesthetic like so many innovative companies? With industrial-style placing so much emphasis on having exposed utilities, the structured cabling and particularly the ceiling cable management solutions need to be a priority.
Traditional and More Common Practices
In conventional office design, a clean look usually means that most elements of HVAC, electric power, plumbing and cabling are hidden away. These utilities are not to be seen and a variety of design features are used to keep HVAC ducts, electrical conduits, and cabling out of sight but in commercial office environments, drop ceilings and acoustical tiles are still the most common means for hiding these "undesirable elements".
Traditional methods for supporting cables include:
J-hooks
This is the most common method and, as the name suggests, this "J" shaped device supports cables above a drop ceiling at intervals of 48" to 60" along the entire pathway. These J-hooks are usually secured to the structural ceiling using powder-actuated tools. There are several different types and sizes of J-hooks available as well as other support options that do not resemble a "J" at all but perform the same function. The decision for which to use is dependent largely upon the quantity of cables being installed.
Cable Tray
A cable tray system is a common way to support structured cabling. There are many different types of cable tray systems available but all are comprised of an assembly of units joined together to form a rigid structural system that is securely fastened to the building, either to a wall or suspended from the structural ceiling. Cable trays are meant to establish fixed pathways for cables and provide some level of protection. However, the costs to install cable trays can be expensive and the design must be carefully coordinated with other trades such as HVAC and plumbing, to avoid conflicts and even more expensive re-work. It is also not realistic to have cable trays installed to cover every single workstation so J-hooks will still be required to fully support cables per industry standards.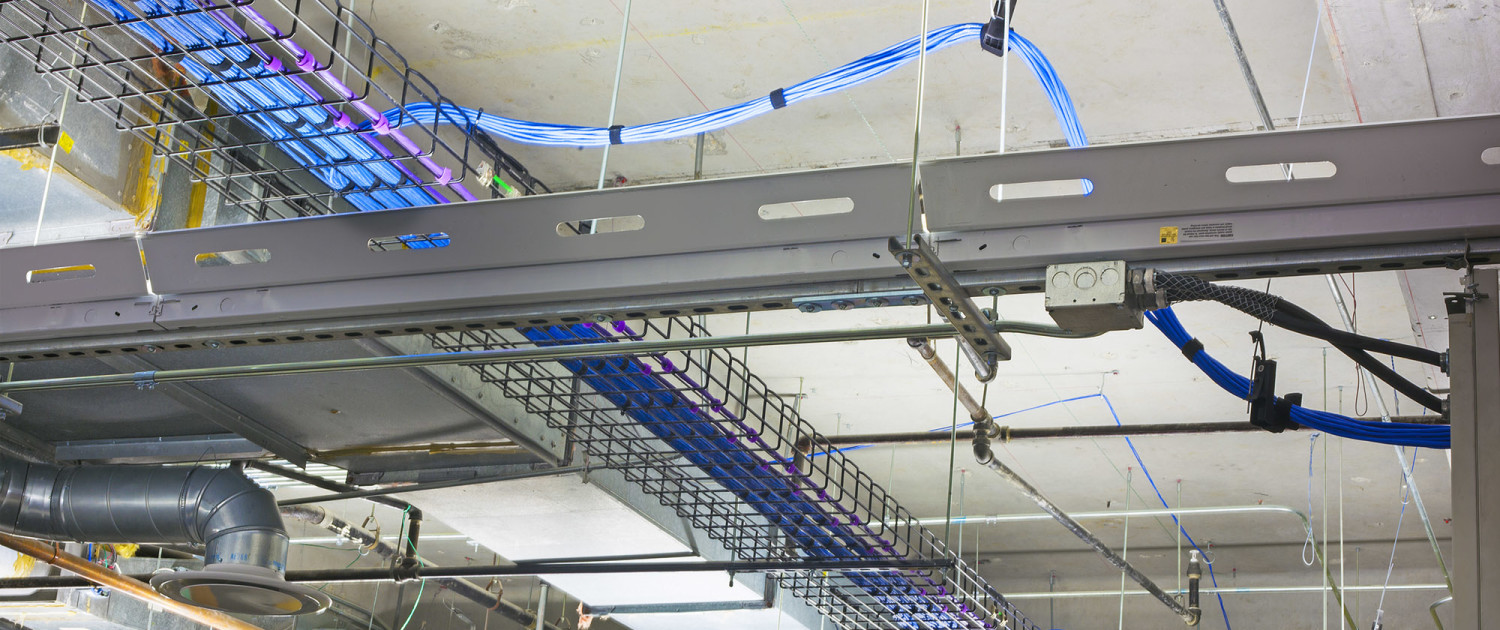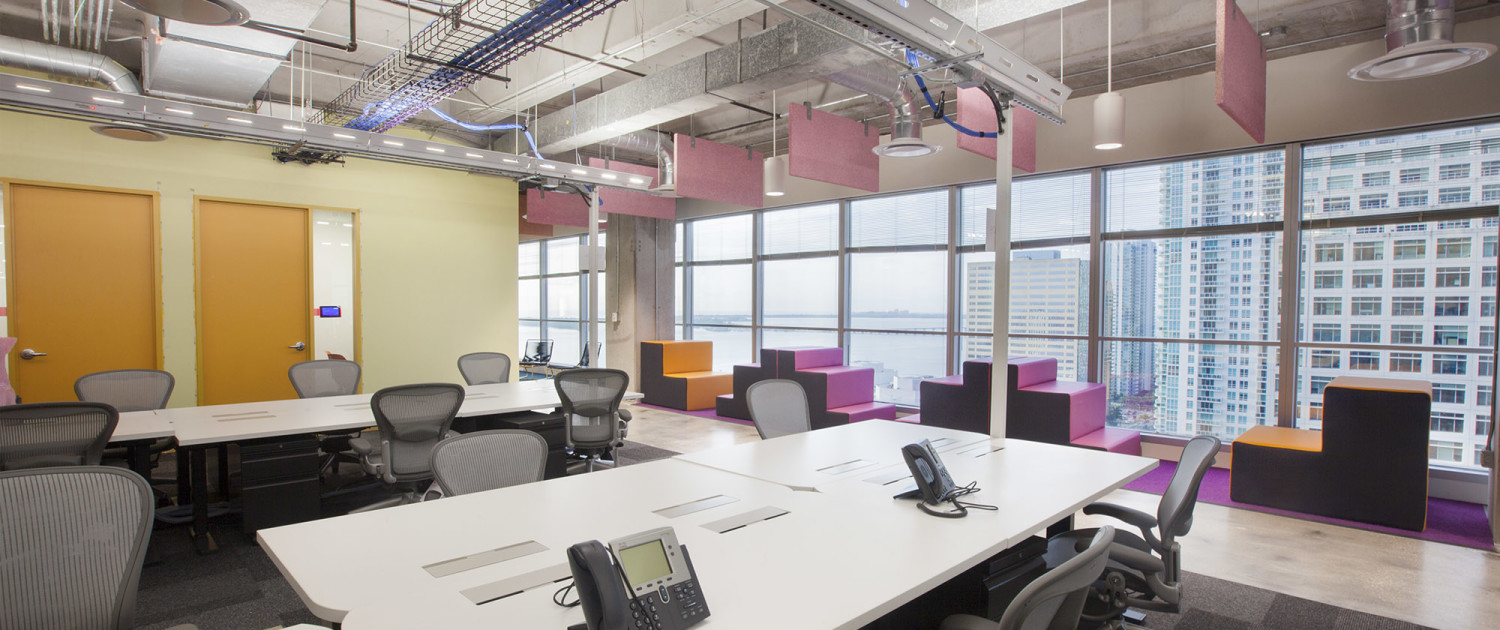 Standard wire mesh cable tray installed in combination with standard J-hooks.
Conduit
It is less common to have conduits installed as pathways for low-voltage cabling above a drop ceiling. Conduits are typically installed as cable pathways in areas that will be inaccessible after construction is completed.
These three options for routing and supporting cables can be used individually or in combination with each other for traditional drop-ceiling installations and can even be used in an industrial office design that has exposed ceilings. However, being that aesthetics plays a key role in an open ceiling industrial design concept, additional thought and effort should be placed on the cabling infrastructure to make sure it does not detract from the intended design.
Industrial Office Designs
As an alternative to traditional office workplaces, industrial design concepts see art in what has traditionally been kept hidden. One of the key design elements of industrial office spaces is naked structural and utility elements, such as exposed electrical conduits, pipes, beams, and ducts. This "unfinished" aesthetic allows a contrast between vintage and modern, between sleek, clean walls and furniture with metal piping and cabling.
A common method for routing or hiding cabling within an exposed ceiling space has typically been to install conduits throughout the office space, which can be a very frustrating and time-consuming process to coordinate with the electrical contractor responsible for installing the conduits. Conduits must be properly sized to accommodate the number of cables required for any given location and bends must be kept to a minimum to reduce the amount of force required to pull cables, as using too much force can damage communications cables.
Within exposed ceilings, communications cables can be installed using standard cable trays and j-hooks, although these can be unsightly and detract from the clean, organized aesthetic that industrial design tries to achieve. Choosing the right ceiling cable management solution that enhances aesthetics while also maximizing efficiency, safety, and stability can be challenging and complex.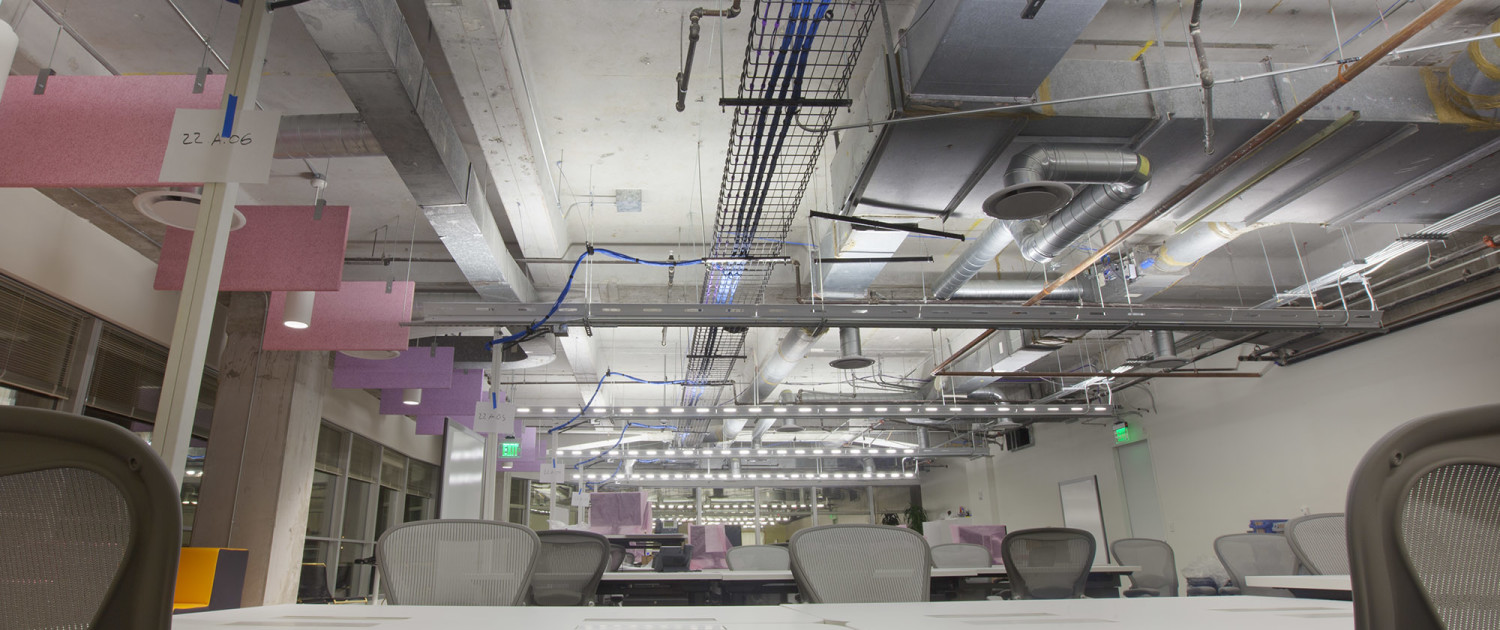 Standard wire mesh cable tray installed in combination with standard J-hooks.
Blue Wave's Cable Management Solution for Industrial Office Designs
With so many factors to consider, how can you find the right cable support solution to achieve and maintain your vision of an industrial office design?
The experts at Blue Wave Communications can help you out. With our ceiling cable management solutions, we can turn the communication cables into eye-catching highlights rather than eye-sores. Instead of trying to hide cables or make them less noticeable, our solution is to showcase the cabling infrastructure by:
Installing ladder style tray instead of standard cable tray.
Designing the ladder tray layout so that it fits with the overall aesthetics.
Meticulously routing and dressing cables on the ladder tray.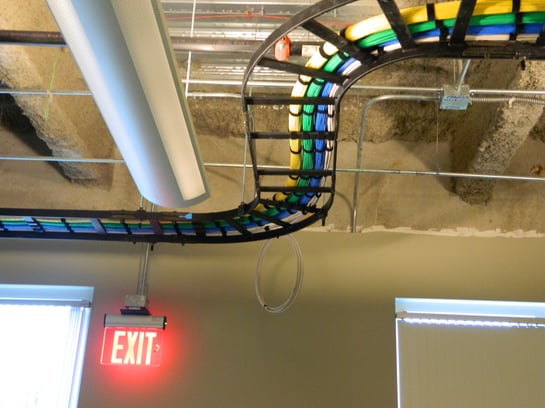 The use of 90 degree sweeps helps to create a more sleek appearance with a purposeful effect.
The finished product? Your exposed cabling is transformed from a potentially unsightly or less-than-ideal infrastructure to a highlight of your office that actually draws the attention of visitors in a more positive way. When done properly, this trendy alternative aesthetic for the modern office can achieve a bold and edgy finish. Blue Wave Communications can help get your office there and turn your cabling infrastructure into a showpiece!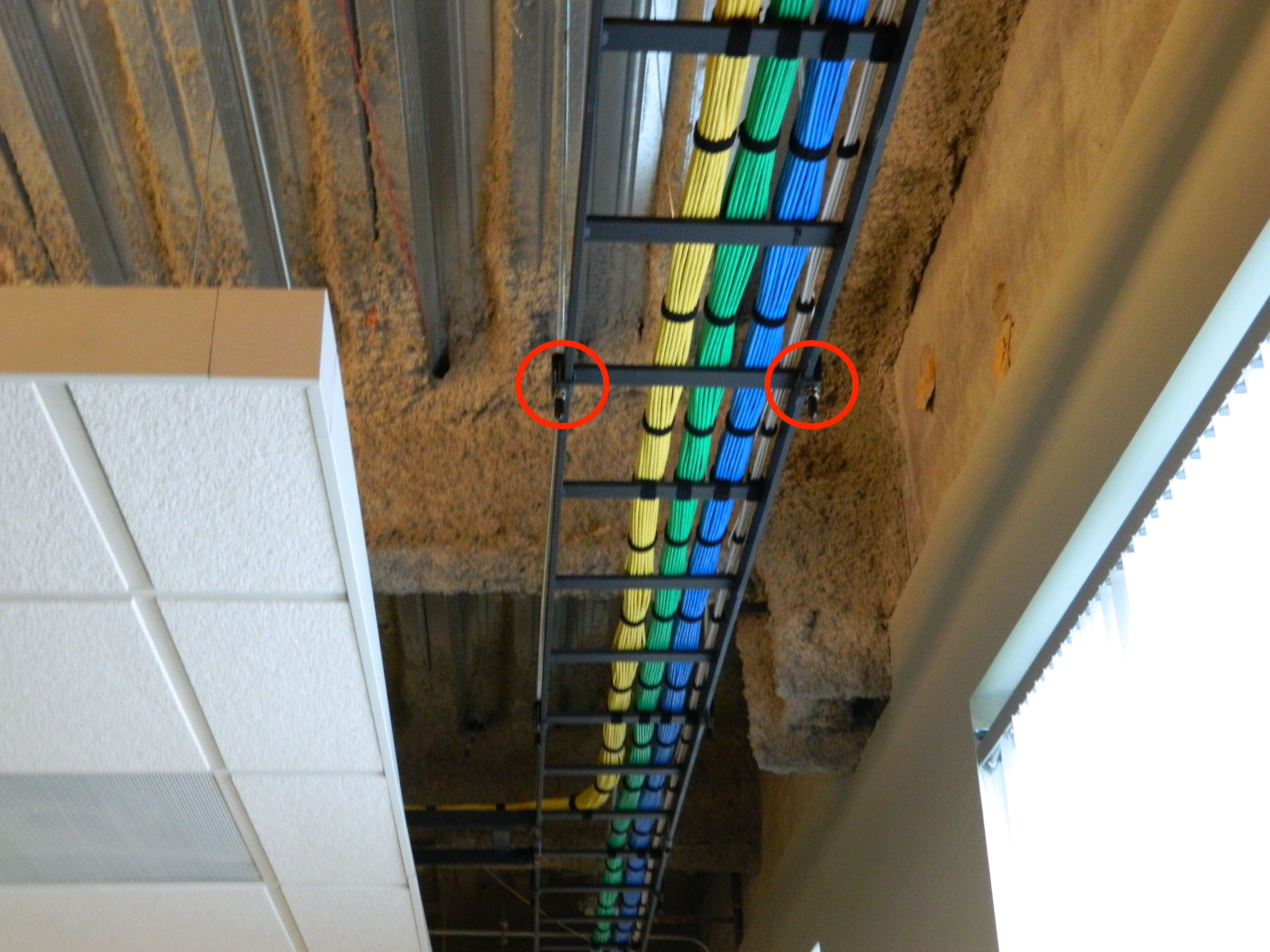 Paying attention to the details will show up and add to the final product.
Are you ready to turn the industrial office style of your dreams to reality? We're here to help make it happen! Reach out to the experts at Blue Wave Communications for more information. In the meantime, check out our success gallery to see more photos of our successful projects!