One of the problems with low voltage cabling in Florida, and probably throughout the country, is that the cabling is being treated more and more like a commodity and, as such, it has become more difficult to add value. Not so long ago, the communications infrastructure was almost always handled directly by the owner or tenant—and seldom was the cabling contractor under the purview of the General Contractor (GC). Over the past several years, things have been trending toward the GCs taking on the responsibility of not only the cabling infrastructure, but also many other disciplines that have historically been the owner's responsibility such as security and audio/visual.
This trend has created some unique issues for low voltage contractors as well as GCs and owners. We often receive requests for bids from general contractors, but the construction drawings lack sufficient information regarding the cabling, security and definitely the AV scopes of work.
Too many companies are satisfied being just another low voltage cabling contractor and are content with submitting bids based on limited information—as long as they win the business, many couldn't care less about the owner's specific needs or the actual quality of their work. These contractors simply don't provide much added value and are often the source of issues for the GC and the owner/tenant.
For example, when a cabling contractor recklessly submits a bid for a project based on little or no specific information from the owner, there are essentially two possibilities:
They Add Change Orders. The low voltage contractor may cite the lack of information on the drawings as a basis for submitting change orders to cover things that are later defined by the owner. This is less than optimal, but it's necessary to get the work done if the initial bid was too low.


They Cut Corners. If the low voltage contractor is unable to submit change orders to get things done the right way, they may cut corners on the quality of materials and/or during installation—which could lead to delays due to failed inspections or, in a worst-case scenario, require a complete tear-out and reinstallation to bring things up to code or to the owner's standards. The cost impact can be significant—especially when it causes delays in the schedule and prevents the owner from occupying their space within their allotted time frame.
Blue Wave Communications is committed to doing things differently. We aren't just "another low voltage cabling contractor," we're a dedicated team of experts committed to making our installations as pleasant and trouble-free as possible for our customers by bringing a white glove approach to our work.
Blue Wave's Core Values
Part of what makes Blue Wave different is our Core Values. These aren't just words to us, we actually put them to use!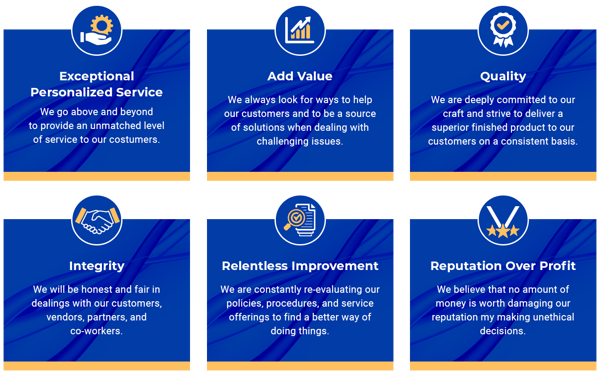 Any company can pay lip service to "doing the right thing" or "creating value," but it doesn't mean a thing unless they follow through on those values and put them into action on a daily basis. Here are Blue Wave's Core Values for low voltage cabling installation work, and how we work to fulfill them:
Personalized Service. When submitting a quote for low voltage cabling, security, AV, or any of our other services, we make every effort to gather as much information as possible to put together a detailed, accurate and comprehensive proposal. Whenever possible, we visit the job site to better understand the environment and meet with the owner to learn their specific needs. We understand that there is rarely, if ever, a "one size fits all" solution and each project and customer has unique needs.


Adding Value. We're experts in the field of low voltage cable installation and, whenever possible, we leverage that expertise to offer suggestions on best practices, designing for emerging technologies, and potential cost-saving options. We work closely with our partners and with other trades to make the process as easy as possible for our customers. We want to make sure that our customers are getting the best value we can deliver.


Quality in Everything We Do. Ensuring that things are done the "Blue Wave Way" is so important to our company that we created a quality control position whose sole job is to visit every site we work on and confirm that each and every project meets our standards. No job is considered "finished" until it can satisfy this inspector's discerning gaze.


Reputation Over Profit. We work hard to earn our reputation as the best low voltage cabling contractor in Florida. Everyone on the Blue Wave Team has the customer's best interests at heart and are committed to delivering service with the utmost integrity. Obviously we are in business to make a profit, but we believe that maximizing profit at the expense of our reputation is unacceptable and profit should not be the ultimate factor when deciding between what is right and wrong.
At every level, we do our best to build a positive and open relationship with our customers. We make that extra effort to provide the most accurate quotes possible so our customers don't have to worry about change orders. Our goal is to ensure that the job is done right the first time, while providing prompt, professional, and courteous service.
How a Low Voltage Contractor Goes the Extra Mile
Here's a true story of how Blue Wave went the extra mile to add value for a client that was based in the United Kingdom (UK) by making sure their low voltage installation was completed without a hitch:
Since the client was located in the UK and five hours ahead of us in Florida, coordinating all the work by phone and/or email made things difficult for them as well as the GC.
Once we were involved on the project, we visited the work site and quickly realized that there were many items missing that needed to be coordinated with the client, GC, and the EC before our work could begin. Following an extensive walkthrough of the facility, we provided a report of everything that needed to be completed to meet their move-in date. Armed with this information, the client was able to coordinate the request with the GC and EC to get things done on time and avoid having to delay their move-in date.
In the end, the client was very appreciative of us being there to act as their eyes and ears on the job site—even though that wasn't technically included in our scope of our work as the low voltage cabling contractor. Instead of simply washing our hands of everything unrelated to the cabling work, we paid attention and helped solve an ongoing issue that would have cost the client significant time and resources to fix otherwise.
Curious about how we can help your organization on your next project? Reach out to Blue Wave to get a quote for a low voltage installation (or another cabling-related service) today.